Best Hobby of 2021
Does your dad spend too many hours watching TV or sat staring at his iPad? Is he restless and need of a new hobby? Something he can do with his hands and while keeping his mind active, especially during the dark and wet evenings as we head into the British wintertime?


If the answer to any of these questions is a resounding yes, it's time to Introduce your Dad to the Best Hobby of 2021. A topic that never fails to capture the interests of so many dads and granddads is military history and all the battles of World War II. And what man doesn't enjoy building things?

Cobi's military models bring these two interests together, with their realistic models of tanks, planes and battleships from WWII, models that need to be assembled using Lego-compatible bricks. A few hours away from the TV building a military model is time well spent and can often be a hobby that dads and granddads can share with their children and grandchildren. After the set is built you have a great display model to feature on your bookcase.

Here are selection of Cobi military models that will make a fantastic gift this Christmas and most likely will spark a new hobby for the military enthusiast in your life.
Shop the Brick Tanks Christmas Gift Guide
Tiger Time
There is no other tank in AFV history which has captured the popular imagination more than the Panzerkampfwagen VI Tiger Sd. Kfz.181 of WW2. Nothing epitomises armoured conflict to the general public like its massive structure on the battlefield. It is the one tank most people can name, even if they have little or no real interest in tanks.

This 800 Cobi brick model will keep Dad away from the TV a few hours this Christmas season for sure.
Stars & Stripes
If dad and granddad are new to building models and you're not quite sure if it will be their thing, try one of the smaller tanks that are 1:48 scale.


The M4 Sherman (named after the famous American Civil War general William T. Sherman) is one of the few really iconic fighting vehicles of the Allies during World War Two, and one of the most famous tanks in history.

This 315-brick tank is a great introduction to building Cobi models and only costs £19.99. Don't forget if you spend less than £25 a £4.99 shipping fee applies for UK mainland. So maybe add one of our military themed books or a Brick Tanks Spitfire Mug to take you order above £25 and get free shipping.
Marvelous Mustang
The 265-brick model is based on Tom Cruise's personal World War II fighter aircraft which he reportedly landed on the set of the Top Gun: Maverick film in 2019. The P-51 'Mustang' was an American plane used in World War II and the Korean War. It was a long-range, single-seat fighter and fighter-bomber. It was designed in 1940 by North American Aviation (NAA) in response to a requirement of the British Purchasing Commission.

Build this Cobi model and re-watch the original Top Gun movies this Christmas season in anticipation of the next Top Gun movie which will be finally released in 2022.
Battleship Ahoy!
HMS Belfast is a Town-class light cruiser that was built for the Royal Navy. She is now permanently moored as a museum ship on the River Thames in London and is operated by the Imperial War Museum.

If the military man in your family has a keen interest in the navy, then this is the perfect model to gift them this Christmas. The 1480 Cobi brick military model will keep him busy this festive season.
Still no idea what to Gift to get?
Sometimes the best thing to do if you're not sure what gift to get, is to spoil the military man with some Brick Tanks vouchers. Then they can jump on our website and pick which ever military model takes their fancy.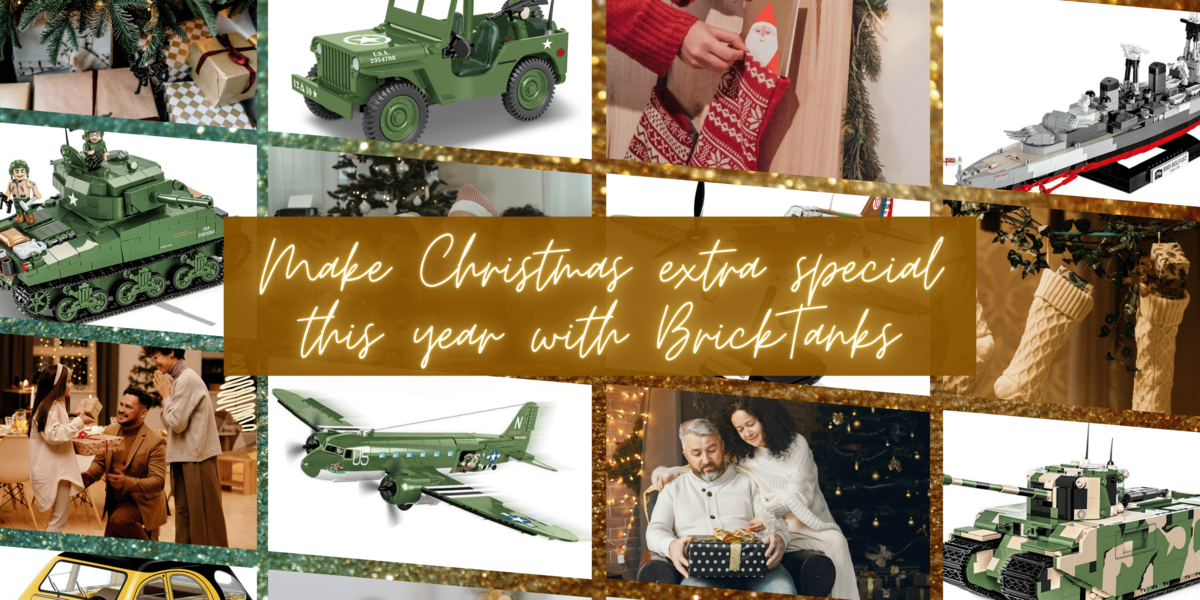 ---